BE A
BIG
We're so glad you're interested in becoming a volunteer mentor, or what we like to call a Big. It's truly a fun, life changing volunteer experience that gives the invaluable gift of friendship. Here are the basic steps we need each volunteer applicant to complete. 
BIG MEMORIES
EVERY DAY WITH EVERY AGE
Bigs are friends, mentors and role models helping children and teens gain greater self-confidence.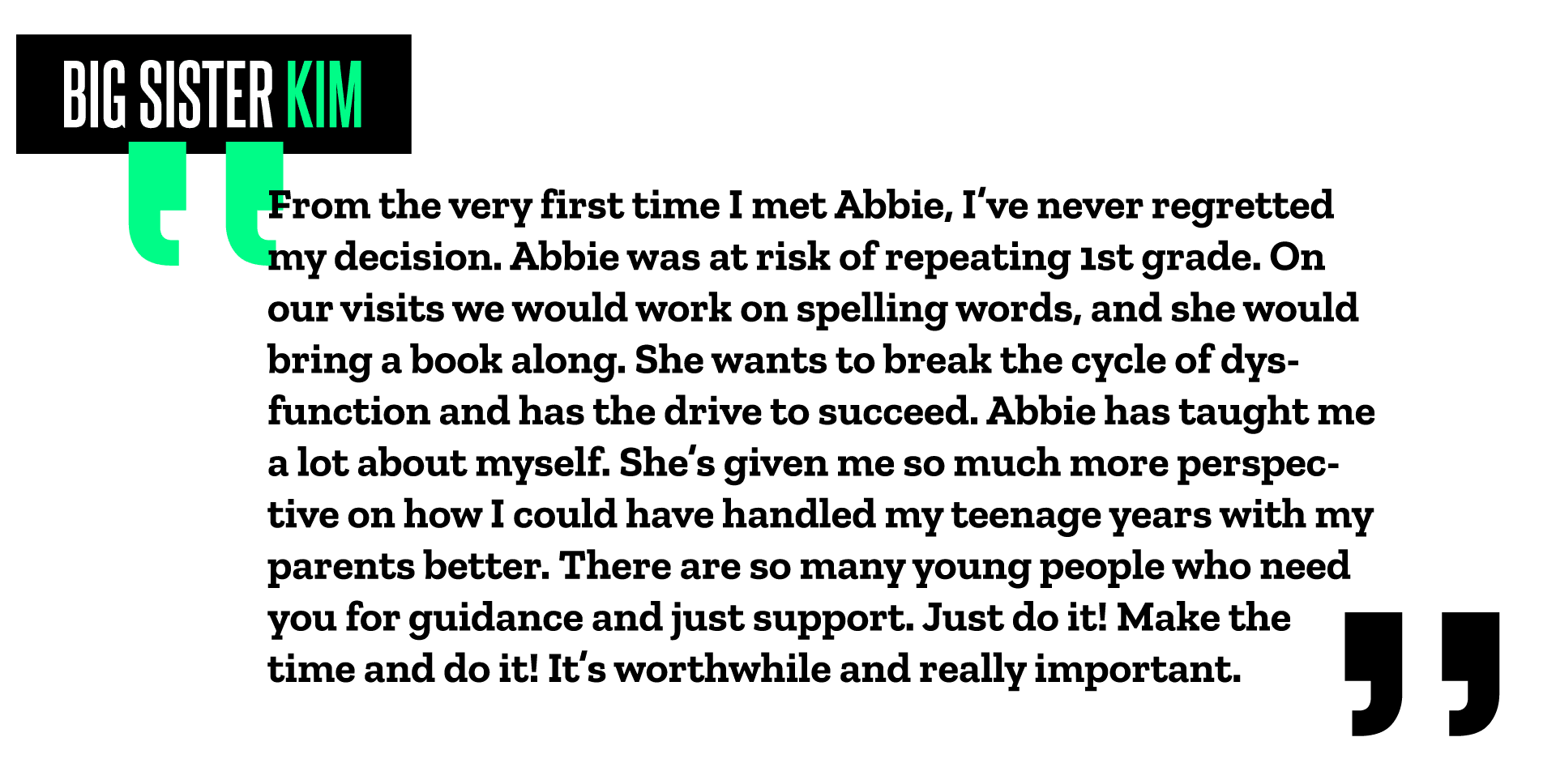 Still Questioning Becoming a Big? Take Our Quiz!
Question 1 of 6
Are you into fun things like Music, Books, Movies, Sports, Pets, Cooking, Art, Games, etc?
Question 2 of 6
How about changing a life while having fun?
Question 3 of 6
Can you be a consistent, reliable friend to a kid?
Question 4 of 6
Did you need help when you were a kid?
Question 5 of 6
Do you have a little time once a week or twice a month to have fun?
Question 6 of 6
How about choosing "Yes" to being a Big to a "Little"
Yay! You would make a great Big! Let's get started!
Inquire Here
If being a Big isn't right for you, that's OK, we have lots of other opportunities to help BBBS! You can donate by clicking below, or connect with us by emailing

[email protected]
Give
REQUIREMENTS
OUR LITTLES DESERVE THE BEST
Bigs must be 18 or older, have a valid driver's license / insurance and be willing to commit to a long term friendship with a child. In addition:
Complete the Volunteer Acceptance Process- this is self paced and takes anywhere from 2-6 weeks on average 

Work with our team to select a Little Brother or Little Sister

Initiate contact with your Little and their parent or guardian

Meet consistently with your Little for at least 12-months

Maintain ongoing communication with the Big Brothers Big Sisters staff
We're here to help you every step of the way. View the FAQ below or watch a video of us answering our most commonly asked questions.
Q1. Am I mentor material?
Our volunteer Bigs come from diverse backgrounds just like our youth Littles. They are regular people, just like you. You don't need any special degrees or job skills. You just have to want to positively impact a young person. Role models come in all shapes and sizes, and YOU could be a perfect fit.
Q2. What is the commitment?
Each Big commits to spending 4 to 12 hours with their Little each month for at least 1 year. How this time is met is unique to each of our Matches! Each Big also maintains regular communication with the agency to receive ongoing support throughout their Match. 
Q3. Am I expected to spend my own money on outings with my Little? 
The quality of the time you invest with your Little is more important than the amount of money you spend. That's why we don't encourage spending a lot of money on your outings. The goal of the relationship is to be a consistent positive presence in their lives. If you are going to spend money, we encourage you to seek out low-cost or no-cost activities, especially in the beginning.
Q4. What do I do with my Little?
Share an activity that gives you something in common to talk about. Go to the library, check out a book and read together. Play a board game. Go on a nature walk. Hit a bucket of golf balls at the local driving range. Take a ride in the car with the radio on and talk about the music you like. You want to select activities that give each of you a chance to learn more about one another. Most important: keep it simple and enjoy yourselves!
Q5. Can I bring my spouse, kids, a friend, or a family member on outings? 
In the beginning it's most important for you and your Little to get to know each other. This can happen best on a one-to-one basis. However, over time it's also valuable for your Little to get to know the people who are important to you. The main focus is the friendship you develop with your Little. 
Q6. What kind of support or training can I expect once I get matched?
Every Big receives training prior to being matched with their Little. Once you are matched with your Little, a Match Support Specialist from the agency will be in regular contact with you to provide assistance and give feedback. Any time you are unsure about what to do or how to handle a situation, you will have a Match Support Specialist there to help. They'll help you with ideas for activities, guidance for handling challenges, and encouragement.
Q7. Who are the youth and families enrolled in the program?
Children ages 6-14 who want and need a mentor are enrolled by their parents or guardians. Parents and guardians take a very active role at every stage of the program including getting to know and partnering with you! Every Little and their family has been carefully screened to determine if the program is appropriate for their needs and to ensure that they are willing and able to make a new friend.
Q8. How do I choose my Little?
This is what makes the program unique! We don't make Matches based on who is next in line. Both Bigs and Littles complete enrollment processes where information about your preferences, hobbies, interests, personality, life experiences, availability, location and more is gathered. Our team takes the time to learn as much as possible and recommends a match based on what will create the strongest Match. Ultimately every Big and Little has the final say as to whether they agree a particular Match would be right for them.
Q9. Can I choose whether I want a Little Brother or a Little Sister?
We first consider natal sex (sex assigned at time of birth) when making Matches. All Big Brothers are matched with Little Brothers. However, Big Sisters can be matched with Little Sisters or Little Brothers, if that is preferred by the Little and their family.
Q10. How long can a Match last?
Once a Big and Little Match has been made, it can remain a Match until either party decides it is time for the Match to end or when the Little turns 18 or graduates high school. Whatever comes first. We find that Matches that have reached this milestone have built a meaningful and lifelong relationship with one another.
Q11. What if my Match doesn't work out?
We do everything in our power to make a Match that we think will last. However, we realize that sometimes things come up — Bigs or Littles move, situations change, or something doesn't work out. We will attempt to mediate the situation, but if it doesn't work out, we will end the Match. If this happens, your Match Support Specialist will be there to support you every step of the way and handle it in the best way possible.
Q12. I want to be a Big! Now what do I do?
Awesome! We're ready to get the enrollment process started with you - just fill out an inquiry form here and someone on our team will contact you in the next 1-2 business days.