Welcome to the Bigs' Corner! 
You asked, we listened! 
Everything you need and want to know as a Big, all in one place.
Welcome to the new online space created just for you, the Bigs' Corner! 
We know being a volunteer mentor takes time and commitment. The time you spend with your Little is so important and we want to make it fun and easy. The Bigs' Corner was designed with you in mind. We hope this page becomes your new go-to resource for upcoming events, free activities in your area, and even tips to kickstart a strong relationship with your Little. We're here to help remove the obstacles, so when you plan time with your Little you can focus on the most important part - the relationship.
Thank you for choosing to be a reliable adult in your Little's life. You are making a Big impact that will last a lifetime.
Looking for something specific and don't see it here? Let your match specialist know:
Misti at 618-239-4081 or Ashley at 618-239-4074
Other Resources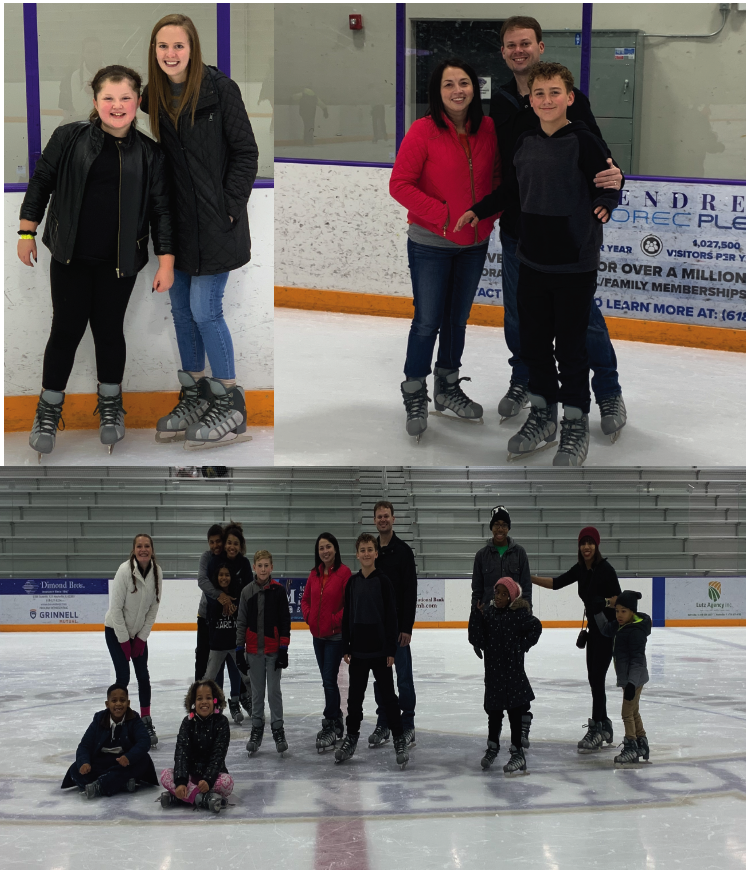 Free Big Brothers Big Sisters Events
Below are a list of agency sponsored events. Some may require an RSVP and have limited spots available.
HORSE BACK TRAIL RIDES AT ROYALE RANCH
RSVP Required (See Below); Limited space available; Signed parental waiver is needed to participate; Helmets are required and available on site, however if you need something special to accomodate various hairstyles or needs, please bring your own helmet. Available every 2nd Thursday and Saturday of each month through October.
Trail Rides (Saturday Sign Up)
National Museum of Transportation in Kirkwood, MO
Free tickets available during normal hours of operation. For tickets please contact Misti at [email protected].
Calendar of Local Events
Here is a list of local activities to do with your Little.
SCC- St. Clair County, MadCo - Madison County, MC - Monroe County, CC - Clinton County
Please keep in mind that this calendar is updated at the beginning of each quarter. Check the link in the event for more information/updates. 
Match Activities for under $20
Gateway Grizzlies Game - Tickets start at $6 and parking is free! Check out their website for special days and events at www.gatewaygrizzlies.com. 
Visit the McKendree Metro Rec Plex - Day passes start at $8 for non members. Gyms, Swimming, Skating and hockey games available! Visit their website for more info: www.metrorecplex.com
Botanical Gardens  - $14 for Adult, free 12 and under
Check out local orchards or farms - Pick Apples, pumpkins, berries, animals, special events and so much more! 
Sky Zone  - Sky Zone is a space to move, create and be yourself. And there's enough room for everyone, so all kids – and kids at heart – can play together. Check out the website https://www.skyzone.com/fairviewheights to sign participation waiver, purchase tickets, and find the time that works best for you and your Little. Buy one get one coupons available by request from BBBS staff.
AMC and Marcus Theaters - $5 Tuesday shows
Free Activities
Eagle watching along the Mississippi River - Just 25 miles north of St. Louis on the Mississippi River, Alton, Ill., has become a winter home to the eagles. From late December through mid-February, all around Alton is all about eagles with guided eagle watching tours and events offered every weekend and during the week. Check out www.visitalton.com/seasons/eagle for the best times and areas to spot a Bald Eagle!
Visit Cahokia Mounds  - Cahokia Mounds State Historic Site, administered by the Illinois Historic Preservation Agency, is just eight miles from downtown St. Louis near Collinsville, Illinois, off Interstates 55-70 and 255, and Illinois 111, on Collinsville road. Entrance is free of charge, donations are suggested on the website. Open daily from dawn until dusk! Check out: www.cahokiamounds.org
Watershed Nature Center - Located in Edwardsville, The Watershed Nature Center is home to over 40 acres of prairie, forest, and wetland habitats. The center features paved walking trails, a raised marsh walk, and a welcome center. Find out more at: www.watershednaturecenter.org
Visit Fort de Chartres State Historic Site - Located four miles west of Prairie du Rocher, Illinois, the site marks the location of the last of four successive French forts named "de Chartres." Built in 1753 by the French during their eighteenth-century colonization of the Illinois Country, the massive stone fort was preceded by three wooden forts, with the first fort erected in 1720. Visit their website for directions and more info: www.fortdechartres.us
See the World's Largest Catsup Bottle - The World's Largest Catsup Bottle® stands proudly next to Route 159, just south of downtown Collinsville, Illinois. This unique 170 ft. tall water tower was built in 1949 by the W.E. Caldwell Company for the G.S. Suppiger catsup bottling plant - bottlers of Brooks old original rich & tangy catsup. www.catsupbottle.com
St. Louis Art Museum  - The museum is one of the principal U.S. art museums, with paintings, sculptures, cultural objects, and ancient masterpieces from all corners of the world. Its three-story building stands in Forest Park in St. Louis, Missouri, where it is visited by up to a half million people every year. Price: FREE! Sunday Afternoons: free child activity to make things
Tour the river Bluffs / Pere Marquette- Visit  Pere Marquette State Park in Grafton, IL. The park offers a half dozen or so marked and mapped trails that offer all levels of hiking difficulty, not to mention the off trail hiking opportunities. Visit https://www2.illinois.gov/dnr/Parks/Pages/PereMarquette.aspx for more information.
St. Louis Zoo - You can't go wrong with a FREE visit to the St.Louis Zoo with nearly 500 species represented on 90 beautifully landscaped acres in historic Forest Park.Visiting the zoo is free, however there are paid activities available around the park. Visit https://www.stlzoo.org/visit/hours-prices for hours and pricing. Reservations are no longer required. 
Gardens at SIUE- The Gardens features a half-mile walking path, a wide variety of native trees and plants, a butterfly garden, an English cottage garden, wind sculpture garden, prairie garden, Japanese theme garden area with a pergola, wooden bridge over Turtle Pond, and more. Perfect place for a picnic or to just get some sunlight and take in the serine beauty that nature has to offer!  Location - 6 Arboretum Lane, Edwardsville, Illinois www.siue.edu/gardens
Things to do
Start a hobby together (e.g., astronomy, clowning, sewing, music, singing, drama, dance, stained glass, painting, poetry…).
Start a collection of something you are both interested in like stamps, rocks, coins, comics, bugs, dolls, figures, sports cards, etc.
Walk, train, and play with your dog together. 
Pop popcorn (the "old fashioned" way, not in the microwave) and watch a movie. 
Build a model car, plane, or rocket. 
Form your own book club (with other matches) and/or read together. 
Draw, paint, work with clay, or make papier-mâché animals or casts of each other.  
Play Charades, checkers, chess, backgammon, or any board or card game (you can even create your own). 
Take a bike ride together (there are several trails in the area – www.trailnet.org). 
Research your family trees together – the library and Internet are great resources! 
Fly a kite at the park – for an extra challenge, make your own kites! 
Feed birds or go to a park and feed the ducks.  
Have a TV show you both watch every week, then call and talk about it. 
Do a science project together using household products (find out what happens to an egg soaked in vinegar). 
Take a walk and bring a memento bag to collect interesting objects along the way.
Prepare a meal together from start to finish – try finding good recipes online or in your favorite cookbook. (YUMMY!) 
Write a letter to your Little on your match anniversary telling what you've noticed about him/her in the last year.  Ex:  positive changes, growth or maturity.
Take your Little to your place of employment. 
Make your own cards for holidays, birthdays, and other special occasions for friends and relatives. 
Trim the hedges, mow the lawn, rake the leaves, and do other yard work together.
Build a bird house or feeder. 
Share family/vacation pictures with each other.
Create a Match scrapbook or photo album to record all your fun times together. 
Start a garden - indoors or out. 
Carve a pumpkin together - don't forget to roast the seeds! 
Make a log cabin, picture frame, or anything you can think of out of popsicle sticks. 
Teach him/her how to change the oil in your car, or any handy skills you may have. 
Complete a jigsaw puzzle. 
Volunteer at a community center/soup kitchen/humane society. 
Make up new lyrics to a song – maybe even about your match.
Make your own T-shirts with fabric markers and colored glue. 
Keep a journal of all your outings together and what you liked/disliked about each. 
Make friendship bracelets.
Play frisbee, catch, basketball, volleyball, touch football, croquet, badminton, etc. 
Make paper airplanes and gliders. 
Play games on the internet or peruse your favorite age-appropriate sites together. 
Make wrapping paper from old magazines and newspaper. 
Make an obstacle course in your yard or local park and time each other.
Make puppets. 
Use sidewalk chalk and draw pictures on the sidewalk. 
Bake a cake, cookies, or brownies or make candy
Have a picnic. 
Make a collage on "friendship" or your Little's life using pictures and headlines from old magazines and newspapers. 
Look up new words in the dictionary. 
Have your Little teach you something.
Blow Bubbles. 
Listen to music together.
If your Little is a teenager, practice completing job and college applications. 
Show your Little your high school yearbook, baby pictures, old report cards,etc. 
Build a snowman/ woman.
Go on a camera scavenger hunt – Make a list of the things you want pictures of before you go and let your Little take the pictures.
 Surprise your Little by celebrating his/her half birthday.
Together, write a family newspaper for friends and relatives.
Make a bug cage and catch bugs.
Weave a ring out of grass.
Buy 10 shares of stock in an inexpensive company and watch it make or lose money.
Use a globe to locate friends, travel destinations and current events.
Make a collage of your lives with pictures cut from magazines.
Plan an imaginary vacation.
Roast marshmallows with toothpicks over the flame of a candle.
Learn a simple magic trick and amaze your friends.
Trace around your little on a piece of butcher paper each year to show how much your little has grown.
Learn to count to 10 in a foreign language.
Have an art show featuring your Little's masterpieces. Invite your friends and family to come and buy original, signed artwork. Set low prices and everything will sell.
Make homemade potpourri with dried flower petals.
Help your Little make a list of everyone who loves them.
Wash the car.
Make a calendar of the big events of the year.
Write a poem.
Look through a book of house plans and pick out your dream house.
Help your Little write a letter to the author of their favorite book.
Get a book about animal tracks and explore a pond or trail to see what animals live there.
Create a tornado in a bottle; put colored water in a two-liter bottle, connect another bottle to it like an hourglass, turn it over and give it a swirl. 
Learn to program a computer in BASIC language.
Finger paint with chocolate, lemon or strawberry pudding.
Make mini-pizzas using English muffins.
Write a letter to your Congressional representatives regarding an issue important to both of you.
Donate old toys and clothes to a community shelter.
Check out a tree identification book from the library and discover which trees grow in your neighborhood.
Train together and participate in a one-K fun run.
Invite someone who has lived in a foreign country over for dinner to talk about life in that country.
Use of book of names to find the meaning of your names.
Make a tent using blankets stretched over chairs.
Squeeze fresh orange juice.
Open the hood of a car and point out various parts of the engine.
Read books about famous inventors.
Enjoy a fresh coconut or pineapple.
Learn to tap out your names in Morse code and to sign your names in sign language.
Skip rocks on water.
Buy a yo-yo and learn how to do tricks with it.
Write to the President and ask for a photo. (You'll receive a picture and a whole packet of information)
Build a house of cards together.
Teach your pet a new trick.
Make pancakes from scratch.
Learn to identify three constellations.
Paint an old piece of furniture.
Learn CPR.
Have a Monopoly tournament.
Bake and frost cutout cookies.
 Make foods from around the world and learn how people live in that country.
 Meditate together.
Rearrange the furniture in your living room.
Learn how to dance.
Take turns styling each others' hair.
Learn how to sew.
Decorate eggs - not just at Easter.
Make a fondue meal or a fruit-and-cake fondue for dessert.
Learn to make homemade root beer or ice cream.